October 26, 2022
---
Saturday, October 29th - 5th Saturday Demos
We will have short demonstrations every 20 minutes from 10 am to 2 pm,
including machine embroidery, Cartonnage, the Creative Grids
Bowl Cozy Template, a Paper Piecing demo & staff favorite notions
Come for one or stay for all - we'll have prizes too!!
---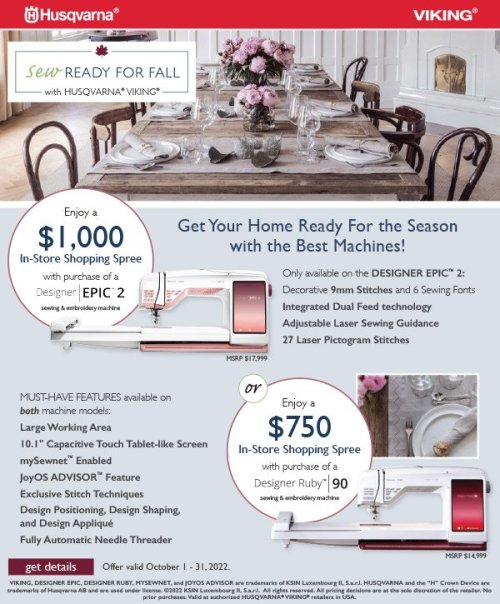 Valid thru October 31, 2022

---

Valid thru October 31, 2022

---


Valid thru October 31.

---

Valid thru October 31.

---
The All Illinois Shop Hop ended in September and it
was wonderful to see you - old and new friends alike.
The fun hasn't ended yet though!!!


Click on the picture to get all the info you need to join the
contest to show off your AISH fabrics! Entries must be posted
on the AISH Face Book page by October 31st.
Also - join the Facebook Live Event on the AISH Facebook page on Tuesday,
October 25th - beginning at 6:00 pm - for the prize drawings.
After the drawing, winners will be notified and names will be
posted on their website.

Here is the link to the AISH Facebook page.


---

Remember that coupon you got with the CISH bag in June?
You can start using them on October 1st!! If you didn't get one -
we still have some left to purchase, so just ask! Come on in for a bag and a coupon!
You can do your own Shop Hop anytime!!

While you're there - take a look at our Quilt Club Challenge wall in the classroom.
You can vote for your choice. Winner gets a free membership to Prairie Points
Quilt Club next year.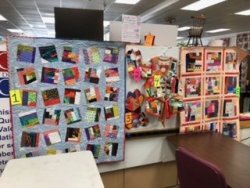 ---
Don't forget our ONLINE SHOP!!

WE ARE NOW A KIMBERBELL AFFILIATE!!!




Look for the Kimberbell logo on our website's homepage.
When you click there and log-in to your Kimberbell account,
it doesn't cost you any more - but it gives us a little credit for
the purchase of anything on the Kimberbell store.
Thanks!!!
---

Class and Club News


Saturday, October 29 - 5th Saturday Demo Days.

Sunday, October 30 - Noon - Cup Of Cheer Work Session with Barb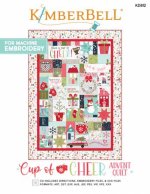 Monday, October 31 - Happy Halloween! We're open!

Saturday, November 5 - 10:00 am - Cup of Cheer Advent Quilt with Barb

November 9- 5:00 pm - Urban Trek (Part 2) with Kelly




Saturday, November 12 - 10:00 am - Prairie Points Quilt Club

Saturday, November 12 - 12:30 pm - Jaybird Mini Series Tasty with Kelly




Saturday, November 19 - 10:30 am - Wildflower Sampler BOM with Kelly




If you are interested in a class and don't see it on the calendar -
please don't hesitate to ask!!! We will do our best to accommodate you,
even if we can't meet in person!