Skip Navigation
Website Accessibility
NEW ARRIVALS THIS WEEK
We'd love to hear your ideas for more projects with these new lines, and
don't forget to email us your pictures (or post them on our FaceBook page)
and we'll put them on our website.

---



"Shades of the Season" by Robert Kaufman

- Gorgeous fall colors and prints to brighten up your holiday decor.



"Frolic in the Snow" Flannels by Maywood Studios - 12 bolts of darling snowmen, mittens and snowflakes abound in this lovely flannel collection. Be cuddly and warm this winter!
---

"Color Me" by Michael Miller comes in 4 different panels for your future artist.
The Royal Life, Princess Paisley, To the Moon and Back and Space Adventures
will keep them busy for hours!

---


Toil and Trouble and Winter Celebrations - both great holiday fabrics from Henry Glass.
It's never to early to start those holiday projects!!


---


Darling Northwoods themed fabric in rich autumn colors - perfect for your getaway cabin
or the camper or hunter in your life! "Moose on the Loose" panel and 8 bolts of
coordinating fabrics.
---
April 3, 2015


Coca-Cola Fabric from Sykel - 2 classic prints



Gold Standard and Sterling Silver from Kanvas Studios. Great fat quarter selection and
2 bolts of coordinating fabrics.



Sundance - 12 bolts of beautiful florals in black prints, bright greens and pinks
from Benartex.



Rusty and Friends from Benartex - pillow panel, layer cakes and 2 bolts of this cute little fox
and his forest friends.


---

"Friends in Wild Places" is the name of this adorable "quick to quilt" panel from Clothworks. 3 coordinating prints to go with it - for your special little one!



We have 10 beautiful bolts of "Poppy Panache" from Benertex - beautiful blacks, whites and florals to liven up any project.

---

Daysail by Bonnie and Camille for Moda - 6 bolts plus precuts - charms, jelly rolls, layer cakes and fat quarter bundles - Oh, my! Vintage modern look in reds, navys and aqua.
Fresh Cut by Basic Grey for Moda - 7 skus of charming retro look prints in grey, pink, coral, mint and a hint of yellow in florals and geometrics.
Watercolor Impressions by Northcott - beautiful spring colors and watercolor prints - perfect for those new projects.
---
"Handcrafted"
by Alison Glass for Andover Fabrics - 6 bolts of
beautiful jewel-toned fabrics with the look of hand-dyed or batik and several patterns
"Fresh Air" by American Jane for Moda - 6 bolts of darling 30's repro prints
along with two patterns called Sunday Best and Twinkle, Twinkle.
---

"Botanical Blues" by Northcott - 11 bolts of lovely periwinkle blues featuring irises and butterflies. Also, companion embroidery software from Zundt Designs and patterns for incorporating the fabric and stitch outs. Robyn will no doubt do an embroidery class featuring this lovely design/fabric.



Wild Things from Northcott - 3 bolts of bright monsters to make a cute quilt for your "wild thing".



"Geo Pop" from Robert Kaufman - a great canvas fabric suitable for home dec or bags
in 3 great modern prints.


---

"Le Elephant" by Clothworks. Elephants parading in cool blues and grays.



"Doe" by Carolyn Friedlander for Robert Kaufman - charm packs and jellyrolls.

---



"Kiss the Cook"- From Robert Kaufman - 3 bolts of cute kitchen utensil & baking themed fabrics great for making hostess gifts like tea towels, hot pads, oven mitts ad aprons

.


Also from Kaufman - "Urban Zoologie"- 5 bolts of darling lions, hippos, foxes, elephants & horses in brights and primary colors to make something perfect for your favorite little animal lover.
Another beautiful Moda - "Boathouse" by Sweetwater (4 bolts) in red, navy & aqua. Great for the sailor or sailor-wanna-be in your life. Jelly rolls and charm squares available, too.
---

"Because of the Brave" from Moda (10 bolts and jelly rolls) of military themed fabric,

covering all branches of the military. G

reat as a "Quilts of Valor" project or a gift for any person in Military service. We also have a great pattern from Lavender & Lime called Brave, using this line of fabric.
---
From Northcott - "Great Vibrations" and "Artisan Spirit"
Strips
in either blues/greens or red/orange colorway
We are continuing to receive new items from Market. The latest are 12 new book releases from Martingale. Come in and see all the 'hot-off-the-press' titles (a great gift idea for your quilt-y friends or for your wishlist!) and as always, books are 20% off!
We have in-stock, Issue 5 (the latest) of Block Magazine from Missouri Star Quilt Co. Lots of wonderful quilt ideas using pre-cuts! We also carry MSQC templates for any of the projects.
---
New from Moda and Sandy Gervais -
Rambling Rose - 20 bolts of beautiful fabrics in
cream, brown, pink and aqua hues.

(Swatches above are Moda's representatives.
May not necessarily be fabrics we offer of this line)
---
Good Company by Cori Dantini for Blend Fabrics is
12 bolts of cute watercolor woodland creatures to
adorn your project.


---
OH, CLEMENTINE - from Windham, 22 bolts of darling 30s inspired prints.




MORE THIS 'N THAT by Nancy Halvorsen from Benartex. We've been waiting for this fabric line to make all the cute table decor from Nancy's book.





TABLE, PLEASE, PART TWO - from Nancy Halvorsen. Just in time for your holiday project sewing. We run out of this book almost as soon as we get them in!





Missouri Star Quilt Company's BLOCK MAGAZINE, ISSUE 4 is here and going fast! Lots of great projects using pre-cuts

.

---
MERRY & BRIGHT

-

Designed by Kim Christopherson (Kimberbell) for E.E.Schneck. This holiday collection is fresh, adorable and so amazingly versatile! Colors and designs range from charming, traditional Christmas to chic, modern looks.
PEPPERED PLAIDS, CHECKS AND STRIPES - by Pepper Corey for Studio E - beautiful collection of jewel toned 'shot cottons' (18 bolts) plus a free pattern download from Studio E called Plaids A Plenty (See our home page for the pattern download).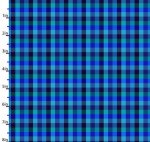 ---
"Elementary" by Sweetwater for Moda - 8 bolts of beautiful teals, whites and blacks - perfect for sending them off to school or your favorite teacher.


"Hot Little Dish" from by Christine Adolph for Quilting Treasures. 6 bolts of kitchen "stuff" in beautiful rich colors.



"Snuggle Buddies" - 6 bolts and a panel of adorable little critters for quick, snuggly baby quilts, by Stacy Yacula- also from Quilting Treasures.




"Aunt Grace's Miniatures" by Judie Rothermel
from Marcus Brothers. 6 bolts that our reproduction fabric collectors are going to love!

---
"Snow Happens" by Bird Brain Designs for Fresh Water Designs. 14 bolts of beautiful primitive snowmen and snowflake designs in blues and creams.

---

From Moda - Lexington by Simpson & Minick, beautiful reproduction line in blues, tans and creams. We also have the companion pattern called 'Morning Walk', beautiful!

We have also received more of the panels for Through the Winter Woods by Holly Taylor for Moda. If you wanted some, hurry in, they are going fast again!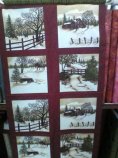 From Windham, 'Secrets and Shadows' by Nancy Gere, lovely repro fabrics in soft greens, pinks, lavenders, blues, tans and black.
---
August 1 - More Quilting Treasure treasures!

"Life...Enjoy the Ride" by Tina Higgins for Quilting Treasures - 9 bolts of beautiful muted teals, grays and corals that you bicycling enthusiasts will love!



"Midnight" by Studio 8 for Quilted Treasures - 7 bolts of beautiful blacks, bright blues and whites.


Also got in a new book from It's Sew Emma - "Fat Quarter Style"
12 great patterns using everyone's favorite - fat quarters.

---
July 26 - Father Christmas Panel by

Liz Goodrick-Dillon for Quilting Treasures, this cotton print fabric panel measures 36'' x 44''. Colors include metallic gold, red, green, blue and cream.
We've also received many jelly rolls, layer cakes and charm packs from Moda.
Come in this week to get them at your "Christmas In July" sale price!
---
July 3 - Most of the "stuff" we received this week was new patterns and books - and we got a lot of them! We did get in a beautiful seasonal fabric line called "Winterlust". This line is by 3 Sisters for Moda. Here's a sampling - we've gotten 12 bolts so far.

---

June 27 -
All That Jazz from Kaufman (3 bolts) - those of you who have been asking for musical inspired fabric, it's here!
Isabella & Salt Air by Four Seasons (6 bolts each) - Great contemporary prints perfect for making bags & totes.
Isabella
Salt Air
---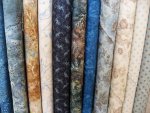 June 20 from Moda: Snowbird from Laundry Basket Quilts - Prints & Batiks, complete line - gorgeous blues, creams & tans in traditional prints & coordinating batiks. Don't wait too long to get this fabric, it is flying off shelves! Patterns for this line include: Gift Basket, Blue Bells and Gingerbread Trio - all from Laundry Basket Quilts


Wilmington: Harvest Time (10 skus) - beautiful Autumn colors with Thanksgiving panel - cute wallhanging pattern (free) for holiday decorating


Andover: Evergreen from Kim Schaefer - (6 skus) cute cardinals & evergreens, great for holiday gift-making
---

June 13 -
Gather Together from Timeless Treasures (8 bolts) - beautiful, classic Autumn /Thanksgiving (pumpkins & fall foliage) theme with metallic gold accents - great for decorating your harvest table!
Chalkboard Christmas - 4 bolts of contemporary red & white prints on black background - looks like chalk writing on blackboard! Great for holiday tablerunners!
This one will be handy next month for our Christmas in July!
---
June 6 - Even more seasonal fabrics and a new one from Parson Gray


Parker Gray is a line of FreeSpirit fabric from Westminster. David Butler (or Mr. Amy Butler) is the artist for this line. David is a graphic artist with a very impressive clientele list. His hope is that his designs will appeal to anyone who likes a naturalistic, modern artistic look. This is his Empire line - perfect for that Father's Day gift! 8 bolts of fabric and jelly rolls




Naughty or Nice by Henry Glass - cute elves, Christmas bulbs, snowflakes and presents in bright colors by designer Dana Brooks of My Lazy Daisy. Look for the free project on on our home page. It's this month's free project.



Snow Daze - by Debra Jordan Bryan for Quilting Treasures. Sweet snowmen, patchwork and bright blue, red and white coordinates for holiday sewing and gifts.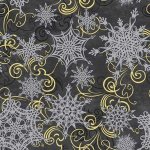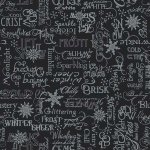 Crystal Palace is beautiful wintery wonderland of fabrics with dark blues, frosty whites and blues, silvers and golds. This line is from Studio E by Whimsy & Wishes.
---
May 30 - We're getting new seasonal fabric lines in every day. Here's what came in this week:
Winter Woodland by Debi Hron for SPX (13 bolts) - cute snowmen & reindeer in bright reds, greens & blues with hint of metallic gold, panel & stripe great for holiday gifts
Holiday Stitches by Me O My for SPX (5 bolts) - primitive Santa & reindeer in tans & red, darling panel & stripe for quick holiday gifts.
Wee Ones Flannels from Moda (7bolts) - muted neutrals, great for making receiving blankets, burp cloths, bibs, for those bundles of joy due in the fall!